---
Training in RRI – Responsible Research & Innovation at our AI4Health Centre
This July 2022, our Centre ran the 2nd edition of its Regulation & Innovation training course. This is our bespoke training course on how medical device regulations work in the context of AI and how innovators can navigate the healthcare ecosystem. Speakers included Dr Warren Macdonald from @ImperialBioeng, who covered a solid introduction to how the regulatory processes work; Mateo Rojas from LakeraAI, who explained why some AI systems could still fail despite seemingly being SoTA, and how innovators can build production-ready AI with focus on safety; and Dr Hugh Harvey from @HardianHealth who had a fantastic discussion with our students on how the regulatory process applies to AI. We further discussed why defining the intended use is so important & how the industry can potentially adopt transparent AI standards.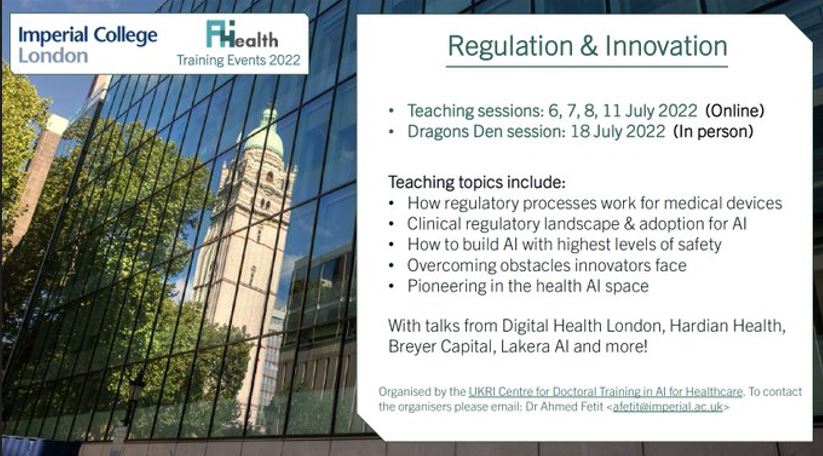 ---
---
---
---
---
New Online Course: Introduction to AI for Clinical Researchers
We are excited to announce that our brand new #AI online course, commissioned by @NIHRresearch Clinical Research Network and co-developed with @Imperial_IGHI, is now available on the #NIHRLearn platform. This is a self-paced training course aimed towards colleagues involved in #clinical #research
& interested in AI. The course covers a. Background & context of AI in healthcare in UK, b. Demystifying technical AI concepts , c. Practical considerations, ethics & regulation of AI.
---
---
---
---
---
---
---
---
---
---
---
---
---
---
---
---
---
---
---
---
---
---
---
---
As part of our research training programme, the Centre launched an educational course on AI Innovation & Regulation in July 2021. This was a three day event that covered the following topics:
• How regulatory processes work for medical devices
• Clinical regulatory landscape & adoption for AI
• Overcoming obstacles innovators face
• Pioneering in the health AI space
• How to build AI with highest levels of safety
• Behavioural differences in adoption of innovation
The course was delivered in collaboration with experts from academia and the industry, including Imperial Business School, Digital Health London and Hardian Health.
The final day of the course featured a Dragons' Den style exercise, where students worked in teams to prepare and deliver a product pitch for a 'Dragons' panel.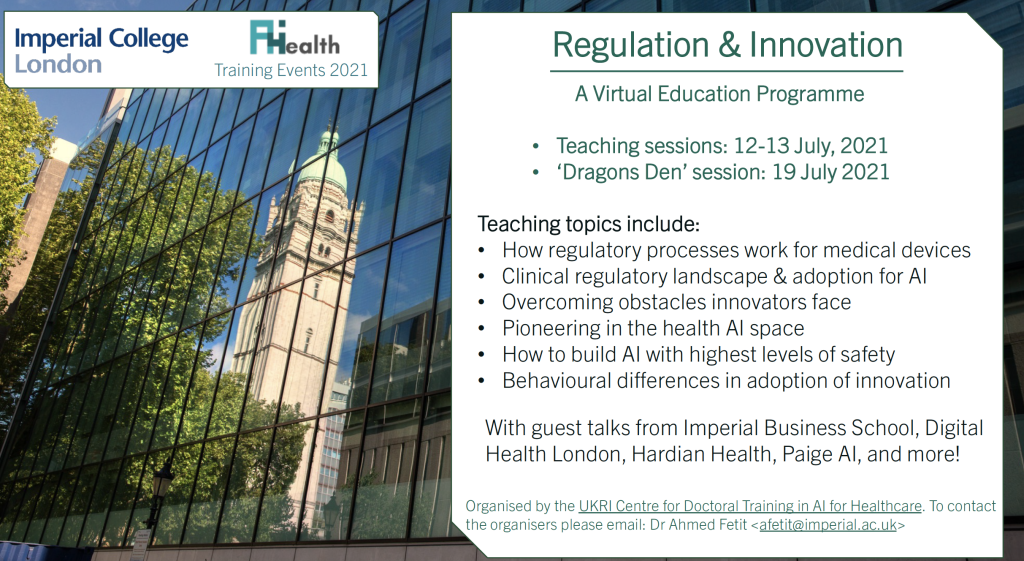 ---
---
---
---
---
---
---
---
---
---